M3 Password Requirements:
Passwords

must

be at least 8 Characters in length
Passwords

cannot

be any part of your M3 Username
Passwords must not contain any special characters
Passwords

must

contain all 3 of the following elements:

At least 1 Capital Letter
At least 1 Lowercase Letter
At least 1 Number

A new password

MUST

be unique and cannot be the same as the previous password (or any of the prior 5 passwords).
---
---
Question: What Version of Citrix is Best?
Solution: Windows 10: Click HERE for Citrix Workspace 1907
Windows 8, 8.1, and 7: Click HERE for Citrix Receiver 4.9 LTSR
Mac OS 10.11, 10.12, 10.13: Click HERE for Citrix Receiver 12.9.1 for Mac
Mac OS 10.11, 10.12, 10.13, 10.14: Click HERE for Citrix Workspace 1906 for Mac
---
---
Question:
My Password is not working (or it has expired) how do I reset it?
Solutions:
Option #1: Click on the Forgot Password Link on the M3 Login Page (https://clientportal.m3as.com), after clicking on the forgot password link, Enter your M3 Username and the appropriate CAPTCHA text and click Submit.
If the information submitted was successful and you will be prompted to check your Email. You will receive an email with a link, when you click on the link you will be taken to a page that will provide a temporary password. It is highly recommended that the password that is provided is typed into the browser manually. (Do not use the Copy/Paste Function)
If you are prompted with an error, on a message that there is not an email address on file, move down to Option #2
Option #2: In the event that Option #1 is not successful, please contact another M3 User and request them to submit a case on your behalf, to have your password reset. It is a M3 Support Policy that password can only be reset via written communication, preferably via the process of a user submitting a case through our help desk website (https://help.m3as.com/helpdesk/)
---
---
Question:
My password is about to expire, how do I reset my password?
Solution:
Prior to completing the process below, ensure that you are logged out of all M3 Products.
After logging into the client portal website (https://clientportal.m3as.com) Go to the top right hand corner and you will see your M3 Username or your First and Last Name, click on the Small Triangle and select the option: Change Password.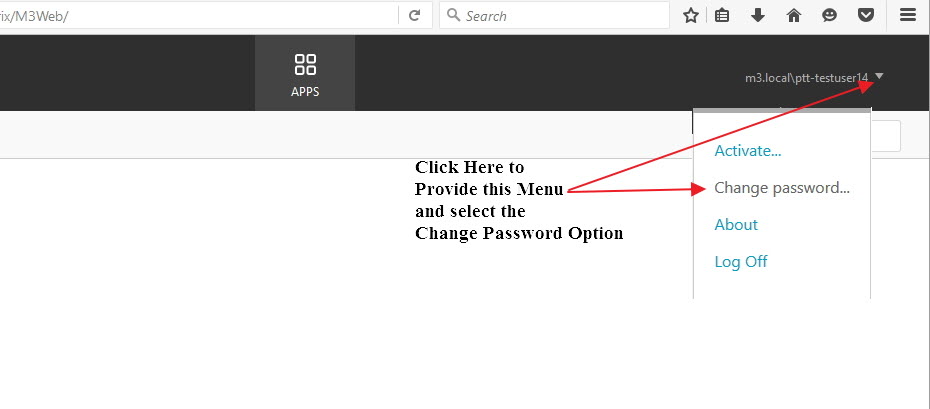 ---
---