Login Frequently Asked Questions
Login Frequently Asked Questions
HEREEvery 90 days the system requires that you reset your password. When it requests that you do so or a technician sends you a reset password, please follow the below criteria:
Passwords

must

be at least 8 Characters in length
Passwords

cannot

be any part of your M3 Username
Passwords must

not

contain any special characters
Passwords

must

contain all 3 of the following elements:

At least 1 Capital Letter
At least 1 Lowercase Letter
At least 1 Number

A new password

MUST

be unique and cannot be the same as the previous password (or any of the prior 5 passwords).
Cannot contain any part of the username, management company name, or your name.
Question: How many times can I mess up the password before it locks me out?
Answer: You can get the password or username wrong three times before it will be locked out.
Solution: You can contact tech support to unlock it or you can wait 20-30 minutes for it to unlock itself.
Question: What Version of Citrix is Best?
Solution: Windows 10: Click HERE for Citrix Workspace 1907 is recommended, (Click on Workspace 1907 in the list then download)
Windows 8.1: Click HERE for Citrix Receiver 4.9 LTSR
Windows 7: Click HERE for Citrix Receiver 4.9 LTSR
Windows 7 will no longer be supported by Microsoft as of January 14th 2020
M3 has not set a date as to when we will stop supporting Windows 7. At this time our portfolio of products can still be accessed on this version of Windows.
Mac OS 10.11, 10.12: Click HERE for Citrix Workspace 1906 for Mac
Mac OS 10.13, 10.14, 10.15, and 11.0 : Click HERE for Citrix Workspace 2012 for Mac
---
Question:
My Password is not working (or it has expired) how do I reset it?
Solutions:
Option #1: On the main page of https://clientportal.m3as.com click the "forgot Password" link. You will receive an email with a link to reset your password. If there is an error or you do not receive the email please refer to option #2
Option #2: Email techsupport@m3as.com requesting that your password be reset. Please include your username. If we are unable to verify your email address by linking it to your user name please see option #3
Option #3: Please contact another M3 User and request them to submit a case on your behalf, to have your password reset. It is a M3 Support Policy that password can only be reset via written communication, preferably via the process of a user submitting a case through our help desk website (https://help.m3as.com/helpdesk/)
---
---
Question:
My password is about to expire, how do I reset my password?
Solution:
Prior to completing the process below, ensure that you are logged out of all M3 Products.
After logging into the client portal website (https://clientportal.m3as.com) Go to the top right hand corner and you will see your M3 Username or your First and Last Name, click on the Small Triangle and select the option: Change Password.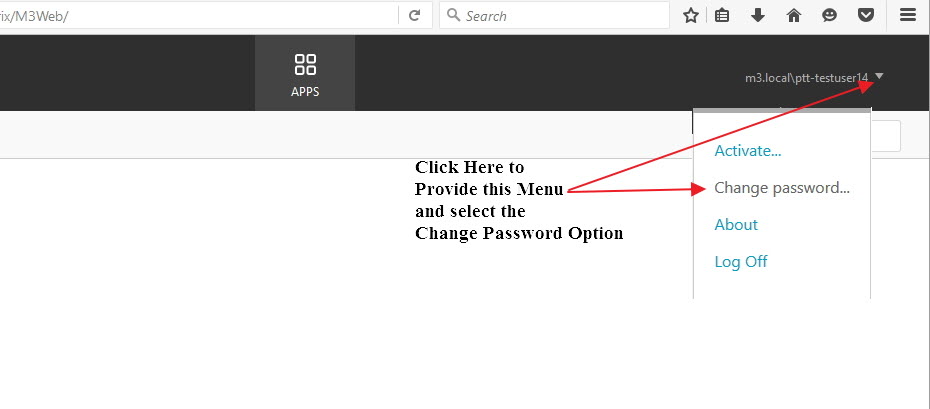 ---
---